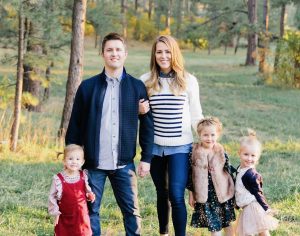 Taylor Goggins, DDS
Dr. Goggins is originally from Houston, Texas, and moved away briefly to attend Brigham Young University, where he graduated with a Bachelor of Science degree. He took two years off from pursuing his education to serve a church mission in Mexico City, where he became fluent in Spanish. He then returned to Texas to study at the University of Texas Health Science Center in San Antonio. During his dental studies, he received numerous awards and accolades, including scholarships and research grants, and held multiple leadership positions, including president of the Hispanic Student Dental Association. After receiving his Doctor of Dental Science degree, Dr. Goggins completed a three-year residency program at Baylor College of Dentistry.
Dr. Goggins and his wife love spending time with their three girls, exploring the mountains in both the winter and summer, skiing, and hiking. The four leading ladies in his life keep him quite busy with their passions for traveling, reading, and art.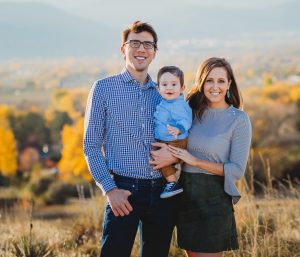 Brian C. Aguirre DDS, MS
Dr. Aguirre attended The University of Texas at Austin (Hook 'em!) where he earned a Bachelor of Arts in Biology. He then moved to Dallas to attend Texas A&M Baylor College of Dentistry, where he attained his Doctor of Dental Surgery degree and met Dr. Goggins! During this time, his growing interest in more complex procedures led him to further his training in a prosthodontic residency. He obtained his Master of Science degree and Certificate in Prosthodontics from Texas A&M Baylor College of Dentistry, where he received advanced training in all aspects of advanced implant and restorative dentistry.
The Aguirre family currently resides in Broomfield with their one-year-old son, Jackson, and two dachshunds, Bubby and Willie. Colorado has always held a special place in Dr. Aguirre's heart—it was here that he proposed to his high school sweetheart, Amber. In his spare time, you can find Dr. Aguirre on the local mountain bike trails. He also claims to be a dental photographer – ask him about it!
Jamie – Office Manager
Jamie's favorite part of working at our practice is that we are always laughing. She is happy to be part of such a positive and energetic workplace, and contributes to the atmosphere by helping our dentists and patients have a positive experience. When not assisting patients at our office, Jamie's hobbies include hanging out with her family and friends, traveling every chance she gets, and spending time outdoors.
Felicia – Front Office
Felicia is a Colorado native and a middle child with two sisters. She owns a 10-year-old Shih Tzu named Mini Wini. She has played softball since the age of 8 and loves exploring what Colorado has to offer, camping in the summer and visiting local breweries year round. Felicia has a lot to add to the team with a myriad of experiences in running a newspaper, participating in choirs, being involved in community service and weight lifting. In High School she was voted class clown.
Cathie – Front Office
Cathie is a native Floridian, a Colorado transplant! She loves spending her time hiking with friends in the beautiful outdoors, checking out antique shops and watching Game of Thrones. One of the coolest things she has ever seen is the Northern Lights, viewing them from near the Canadian border.
Christine – Registered Dental Hygienist
Christine graduated from Colorado Northwestern Community College in 1987. Just out of high school, she achieved the highest score on a national clinical board as the youngest in her class. Her love of dental hygiene and treating patients to the best of her ability are her reasons for going to work; the excellent work environment and camaraderie are the icing on the cake! Christine's heroes are her mom and dad. Because her father was an airline mechanic, Christine has spent a lot of her life travelling. Naturally, she would love to possess the power of flight. Though, if she were invisible, she would take travelling to the next level by sneaking aboard a space shuttle. She is also an avid skier and pool player!
Ryan – Dental Assistant
Ryan grew up in Lawrenceville, Georgia, the youngest of four older siblings. He has two pets: a dog, Olive, and a cat, Max. After attending the University of Colorado Denver, he worked as an assistant for a number of years before joining the team at Denver Restorative Dentistry. He is looking forward to completing hygiene school one day. For fun, Ryan plays tennis and goes hiking, camping and snowboarding.
Priscilla – Dental Assistant
Priscilla grew up in Reading, Pennsylvania, where her family still lives. After graduating from Berks Technical Institute with a degree in technology, she moved to Denver to work on becoming an ultrasound technician at the Community College of Denver. Priscilla is a member of the National Society of Leadership and Success, Sigma Alphi Pi. She likes attending her chapter meetings because they are a lot of fun and she gets to meet new people. Her favorite part of our practice is working with amazing doctors with a good sense of humor!
Sarah – Dental Assistant
Sarah is a proud Colorado native. Her career in the dental field began in 2005, and she loves all the work she gets to do as a dental assistant. She brings positivity and professionalism to Denver Restorative Dentistry! Sarah enjoys camping, hiking, traveling, and restoring old cars and motorcycles. She loves spending her time doing anything and everything with her family and friends, especially her amazing daughter Annibelluh.